"Get me a ticket for an aer-o-plane..."
(Prom 2001)
I suppose it's no surprise to those of you who know me that I went back home to go to Mary-Pat's prom. It's one of the best trips I ever made. Who woulda thought, Adam enjoyed a trip to Houston...of course, the company could make any locale a pleasure.
Me, pre-shave. The goatee thingy is from Canterbury Tales.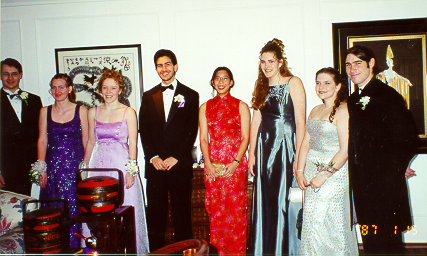 The group: Darren and Melanie, Vicki and Daniel, Sarah, Heather, and Mary-Pat and me. This is in Sarah's living room. It's amazing, these people actually clean up nice...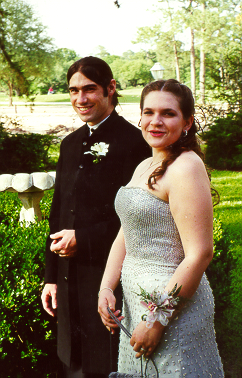 Me and MP. Isn't she gorgeous? I loved that dress...it's too bad the pic doesn't really show her hair, as it was done up in these little tiny braids that spiraled out and around and looked just plain cool. Photo doesn't do her justice.
To Other Pics of People at SEMO
Copyright © 2001 Adam Rutledge